Security Cameras – Analog vs. IP
Analog Security Camera System Design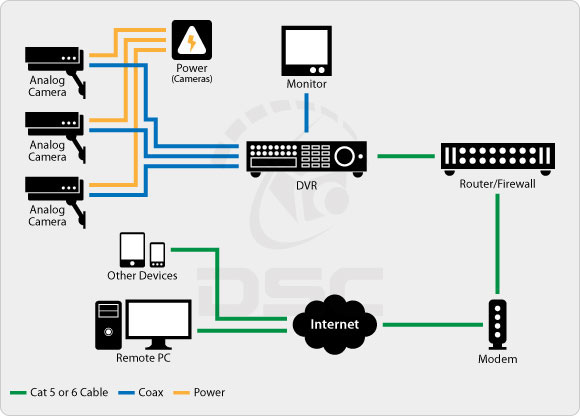 In the traditional analog CCTV application, security cameras capture an analog video signal and transfer that signal over coax cable to the Digital Video Recorder (DVR). Each camera may be powered by plugging in the power supply right at the camera or by using RG59 Siamese cable which bundles the video and the power cables. The DVR converts the analog signal to digital, compresses it, and then stores it on a hard drive for later retrieval. Intelligence is built into the DVR to handle such things as scheduling, motion detection, and digital zoom. Monitors for viewing the video are connected to the DVR, or it can be set up to publish over an internal network for viewing on PCs. The DVR can also be set up to broadcast over the Internet and can add password protection and other features. When broadcasting over the Internet, the video for all of the cameras is transmitted as one stream (one IP address). Therefore, it is very efficient.
IP / Network Security Camera System Design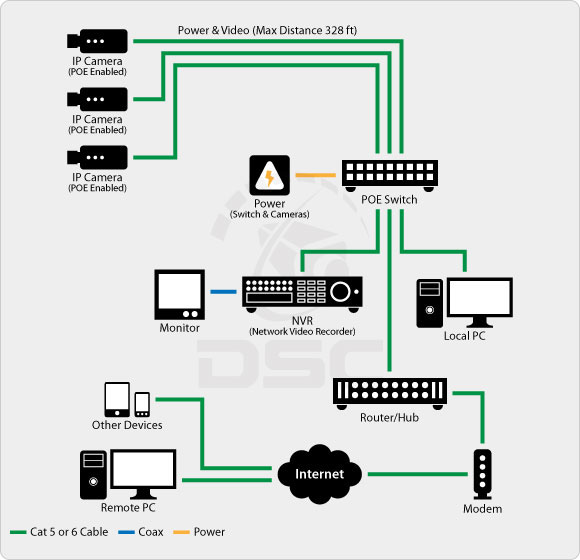 In the IP world, each network camera captures an analog image but immediately converts it to digital inside the camera. Some digital processing can happen right at the camera, such as compression and motion detection. The digital video stream is then broadcast over the local area network (LAN) using Ethernet (CAT5 or CAT6) cable. Power is supplied to the cameras through the ethernet cable via Power-Over-Ethernet (POE) adapters built into the cameras and at the (POE enabled) switch. (FYI – Older style IP cameras do not have POE built in so POE adapters had be added to the system.) The ethernet cable for each camera is plugged into the switch which feeds into the network hub. As with all network devices, some set-up needs to be done for each network camera to set up its IP address and other identifying attributes.
A Network Video Recorder (NVR) performs the same function as its DVR cousin in the analog world. It captures each camera's signal, compresses, and records it. The main difference is that the video feeds are digital (and much higher resolution) and not analog. Software built into the NVR provides features such as intelligent search and zoom, etc. The NVR combines the video streams from the cameras and handles the broadcast over the LAN and internet for local and remote viewing.
IP / Wireless Security Camera System Design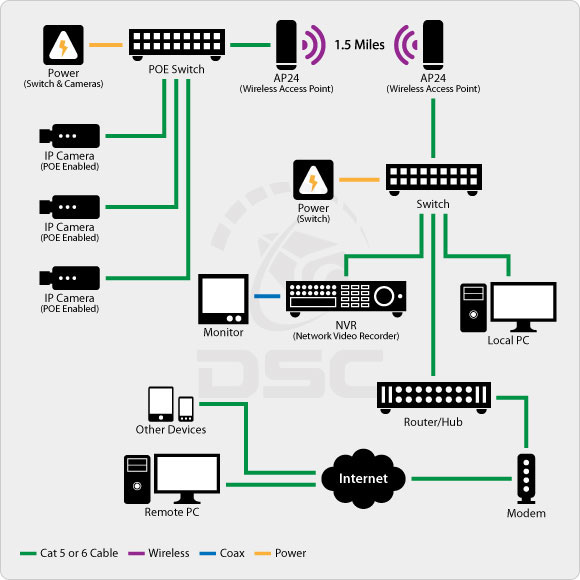 IP Wireless security camera system design is very similar to standard IP camera system design except for the addition of wireless access points inserted between the home network switch and the cameras. This allows you to place cameras up to 1.5 miles (plus up to 328 feet of Ethernet cable) away from your local area network (LAN).
Which approach is more cost-effective?
For now, installing analog cameras coupled with DVRs is still the most cost-effective approach for most security applications. However, the cost of IP cameras and components is rapidly declining, making IP systems more and more affordable and desirable.
A typical medium quality analog dome camera sells retail for about $50 to $150. A similar quality IP camera sells for at least twice that amount. Analog cameras are available with many different features: varifocal lenses, pan/tilt/zoom, and long distance infrared, for example. Finding just the right combination of features in a network camera for your application might be more difficult and expensive. Sometimes you may have to buy an analog camera and add a separate video server to do the job. Single-channel network video servers currently start at about $300 retail.
IP advocates may point out that businesses often have IP networks in place and therefore no additional cabling or hardware is needed. However, each camera requires a port to plug into the switch, so more or bigger switches may need to be purchased. POE adapters might need to be added. If the existing network will not handle the load of the additional network devices, upgrades might need to be made, thereby making the installation more expensive.
Finally, bandwidth on the local area network (LAN) needs to be considered. Video uses a lot of bandwidth. The bandwidth used by each camera varies by many factors including the resolution, the compression method, and even the amount of movement in the field-of-view.
Analog camera systems transmit over coax, not the LAN, so their bandwidth is not much of an issue. The only use of the LAN in analog systems is for the DVR to broadcast video data over the network to local desktop users or to the internet. DVRs tend to broadcast video very efficiently and will only use bandwidth if people are currently viewing the cameras.
In IP camera systems on the other hand, each IP camera uses the LAN to broadcast their signal to the NVR so bandwidth can be a big issue. As a general rule, an IP camera using full CIF (352 x 288) resolution, 30 frames per second (30 fps), and MPEG4 compression will require about 720K bits per second (720Kbps). Therefore, if we put 100 IP cameras running CIF on a network, we would use about 72Mbps of bandwidth. This number will double if audio is also transmitted. However, to make bandwidth matters worse for IP – most of the newest IP cameras are coming out with 'megapixel' resolution. This is wonderful from the standpoint of how much clarity and field-of-view can be captured, but it comes at a huge price to bandwidth. A single 2-megapixel IP camera, running 30 fps with MPEG4 compression will use a whopping 6.5Mbps of bandwidth. It should come as no surprise then that some companies have gone so far as to create an entirely separate IP network just to run their camera system.
High-resolution IP cameras also require a great deal of hard drive space to store the video. The single 2-megapixel camera described above would require approximately 67 Gigs of hard drive space to record one day's worth of video.
Which approach is better quality?

There are poor quality components and good quality components no matter which type of system is used. That being said, network cameras do offer some technological advances in the areas of video quality and wireless installations. Analog cameras cannot provide resolution above TV standards, the maximum being about 0.4 megapixel. Resolution of IP cameras can be many times higher (currently up to 5 megapixel) and they can capture a clearer image when objects are moving. This could make a difference in high risk applications such as for casinos and law enforcement. Wireless communication over IP networks has fewer problems with interference, and encryption security is built into the technology.
Which approach is easier to install and configure?
If an IP network is already in place at the installation site, and it can handle the additional load of the new cameras, then IP cameras will be easier to install. If additional RJ-45 jacks are needed to plug in the network cameras, then the installer only has to run a CAT-5 cable from the camera to the nearest switch. An inexpensive switch can be installed right at the nearest wall jack. In contrast, each cable for analog cameras must be run all the way back to the DVR. If upgrades need to be made to an existing IP network to handle the additional load, obviously the installation would be more difficult.
The power for the cameras can be handled fairly easily with either technology. For IP networks, built in POE adapters make sending the power through the existing ethernet cable easy. For analog systems, use RG59 Siamese cable to combine the video and power cables into one jacket. Either way, there is no additional cabling for power. POE can run 328 feet without a repeater. RG59 can be run 1000 feet without a repeater.
What about wireless?
Analog wireless systems do not work well. This is because the government regulates on which frequencies analog wireless devices can run and how strong the signal can be. Interference from other wireless devices such as cell phones can cause the camera video to be distorted. Interference is especially problematic in buildings with florescent lighting.
Digital IP wireless is much better. The digital transmission does not get interference from other analog wireless devices, and the 802.11x communication standard used has encryption built in. Consequently, there is no problem with unauthorized access to the video.